News broke this morning that Miley Cyrus and Liam Hemsworth are actually married – and we can't even say 'congratulations to the newlyweds' because the actual ceremony happened six months ago.
Now, we know that Miley can keep a secret life from us (Hannah Montana and all), but we weren't expecting this secret life to be married life. According to the Australian magazine NW, a source confirmed the duo tied the knot in April:
"It was a very intimate ceremony at their house in Malibu. I'm told only a handful of people were there and they're still the only ones who know. Miley and Liam haven't really been making it public knowledge," the source added. "And don't plan to anytime soon."
Rumours have been swirling since last week, that the lovebirds had tied the knot. The couple were spotted wearing matching wedding bands while visiting the place they first met – Tybee Island in Georgia, where they filmed the movie The Last Song. Aww ❤️
They also made a red carpet appearance last month – it was the first for the duo since 2013 – at the Thor: Ragnarok LA premiere.
To support Liam's brother Chris, the newly reunited couple posed for adorable snaps. Miley was wearing a vibrant 60s-inspired flower power dress and Liam looked as handsome as ever in a suit and tie.
Earlier this year, following her self-imposed "media blackout", Miley Cyrus spoke out about her relationship with hubby Liam Hemsworth and she got honest!
"I think, know that everything is happening for the right reason," Miley said while speaking to SiriusXM's Hits 1 in Hollywood.
The couple split in 2013, as Miley revamped her image from Disney star to the girl who infamously twerked on Robin Thicke at the VMAs. They were first seen back together in January 2016.
Miley said she would tell her younger self: "I think … everything is happening for the right reason, and I knew that when we weren't together for the first time. I didn't know if that was the end of it, or if we'd be back together again, but knew that wherever I was going, I was on the right path."
The pair needed to break up to have the relationship they have today: "I think, people who break up and get back together, I think that's awesome because you know it's true, but you get time to be yourself. You get time to grow up. I think if you're growing up attached to another person, you never really get solid as your own being."
It's not the first time Miley has spoken about getting back with Liam, telling Billboard magazine.
"I needed to change so much. And changing with someone else not changing like that is too hard," she told the interviewer. "We had to re-fall for each other."
Miley even wrote a song about her relationship with Liam. The track, Malibu, includes the lyrics, "I never would've believed you if three years ago you told me I'd be here writing this song."
Speaking of the track, she said: "They're going to talk about me if I come out of a restaurant with Liam. So why not put the power back in my relationship and say, 'This is how I feel'?"
Since rekindling their relationship, Miley and Liam have appeared happier than ever, with Miley even getting a tattoo dedicated to her man.
Liam has professed his love for Vegemite countless times in interviews, which is why everyone's convinced it's for him.
Their love story 2.0 started when Miley and Liam hung out over Christmas and New Year in 2015. "Miley came back to LA after spending the holidays with Liam. She had the time of her life being with him and his family," a source told E! News at the time.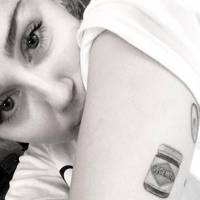 Miley also set tongues wagging when she posed for a photo on Instagram wearing the engagement ring Liam gave her the first time around…Miley also set tongues wagging when she posed for a photo on Instagram wearing the engagement ring Liam gave her the first time around…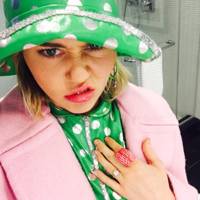 To be fair, if we had a 3.5-carat, custom-designed Neil Lane engagement ring we would never take it off.
An insider told E News! at the time that Liam's family is pleased to have Miley back in their life, and think that they can make it work now that they're older.
"Liam never stopped loving Miley. Liam and Miley's timing was just off the first time they were engaged, many things played into them calling it off," an insider told the website.
"They both needed to grow up and figure themselves out more. Liam's family always liked Miley but they supported Liam's decision at the time. They did feel that both of them were too young." The source added, "They are in love and it's a different time now for them."
Back in 2015, when the pair had broken up, Liam opened up about his five year relationship with Miley saying his feelings for her will never change.
When asked if he felt like he'd "dodged a bullet," he said: "You fall in love with who you fall in love with; you can never choose. I guess some people just come with a little more baggage.
"I mean, look-we were together five years, so I don't think those feelings will ever change. And that's good because that proves to me that it was real. It wasn't just a fling. It really was an important part of my life and always will be," he told Men's Fitness.
Likewise, Miley told Australian talk show host Chris Bath: "I love Liam, Liam loves me".
Taken from GLAMOUR UK. Click here to read the original.
Want more breaking celebrity news? Click here.